In many ways, selecting your worktop can be the most important decision you make. It is very often the element that gives the 'wow factor' to your new kitchen and it deserves careful consideration.There is a variety of surfaces available at different price points.
The demands made on a kitchen worktop can vary from household to household. A home occupied by two busy professionals will not be the same as one inhabited by a family with three hungry teenagers, whose priority may not be worktop preservation!
It is wise to select the one that best meets your needs, the cheapest is not always going to be the most cost effective.
We will guide you through the options available, listing 'pros' and 'cons' as we see them:
Currently the most popular option with good reason.
This surface is made up of crushed granite; glass and other products which are mixed together with a polyester resin making them really strong; durable and hygienic.
Can be cut to shape to match any design.
Because it is an engineered product there is greater uniformity to its finish than its natural counterpart, giving a more aesthetically modern look to it.
Combined with upstands and backsplash behind the hob it eliminates the need for tiling.
Pros:  Hard-wearing and scratch resistant; low maintenance; non-porous; consistency of finish.
Cons:  Due to the presence of resins, it is not recommended to place items straight from the oven or hob on to this surface.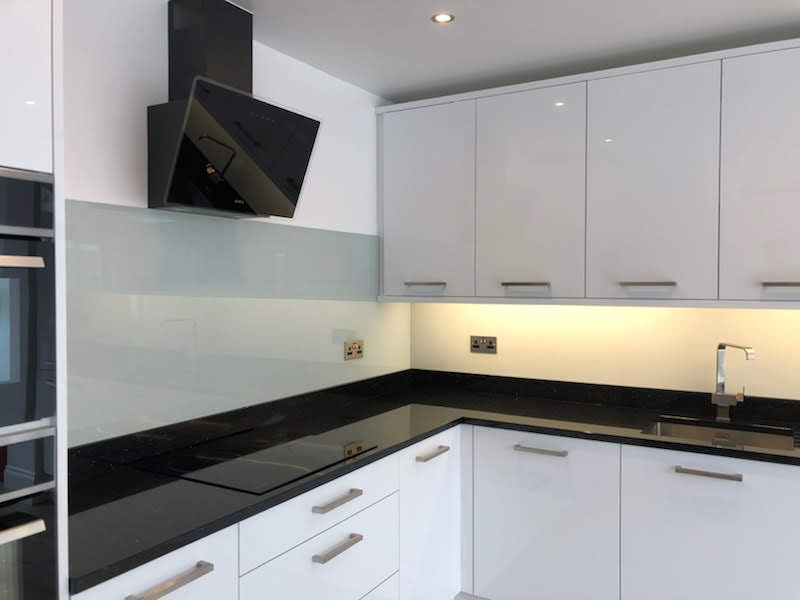 This is a naturally mined product and as such every individual slab is different bringing a uniqueness and individuality to each kitchen it is used in.
As with quartz, it can be shaped to suit the kitchen and can be combined with upstands and backsplash behind the hob it eliminates the need for tiling.
Pros:  Extremely durable; once in a lifetime investment; timeless beauty; very little maintenance required and easy to clean.
Cons:  Damage cannot be repaired (though difficult to damage in the first place); expensive; some higher porosity stones can stain so care should be taken in selecting finishes.  (We tend to avoid marble for this reason!)
Natural timber is a beautiful work surface, giving warmth and richness to any kitchen. It does require maintenance in the form of regular oiling (2 – 3 times yearly) and prolonged exposure to water will have a detrimental effect creating mould and blackening of the surface.
Minor damage to the worktop can generally be repaired by sanding and re-oiling, but it is prone to denting and scratching from daily use.
Care should be taken in the timber selected with oak; iroko or walnut being our top recommendations.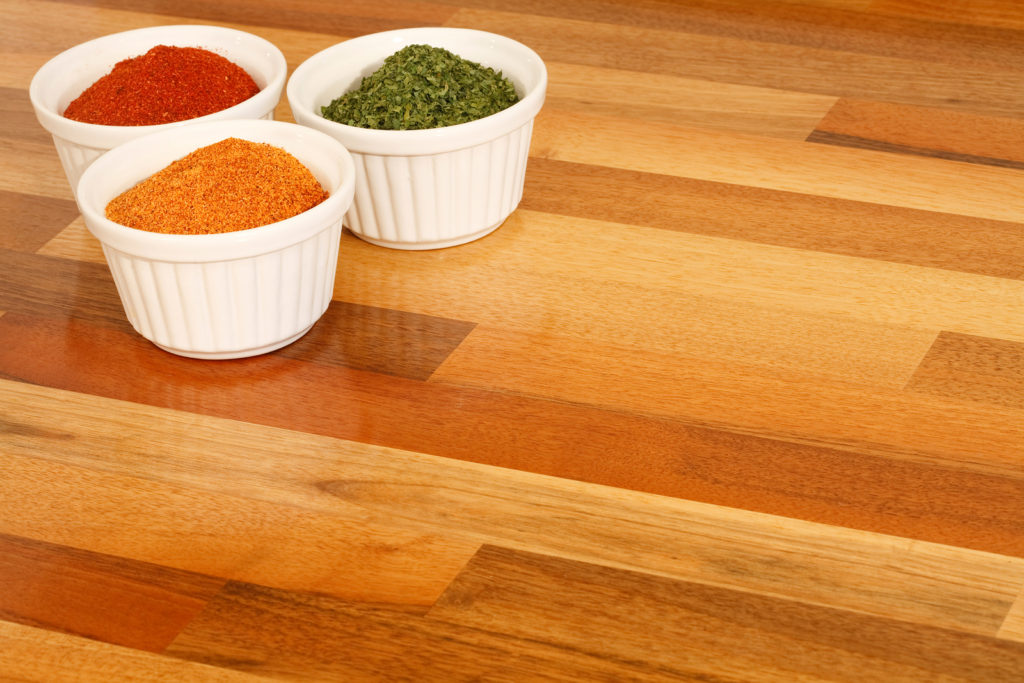 Pros:  Cost effective; naturally antibacterial making them very hygienic; minor damage can be repaired; robust and beautiful.
Cons:  Regular maintenance required; can be easily scorched, scratched and stained; not great with water.
Modern laminates are not to be shied away from. They offer a good choice of colours; selection of sizes; they are cost effective; reasonably durable and if used with due care and attention, they will last for years.
A competent fitter will avoid ugly worktop joining strips and 'butt and scribe' the worktop from beneath giving a more seamless finish.
Pros:  The main advantage is the cost saving.
Cons:  They will scorch and scratch; any damage is irreparable; limited in terms of using shapes and curves.